Client Case: Visit Bruges — Studio Hyperdrive
Visit Bruges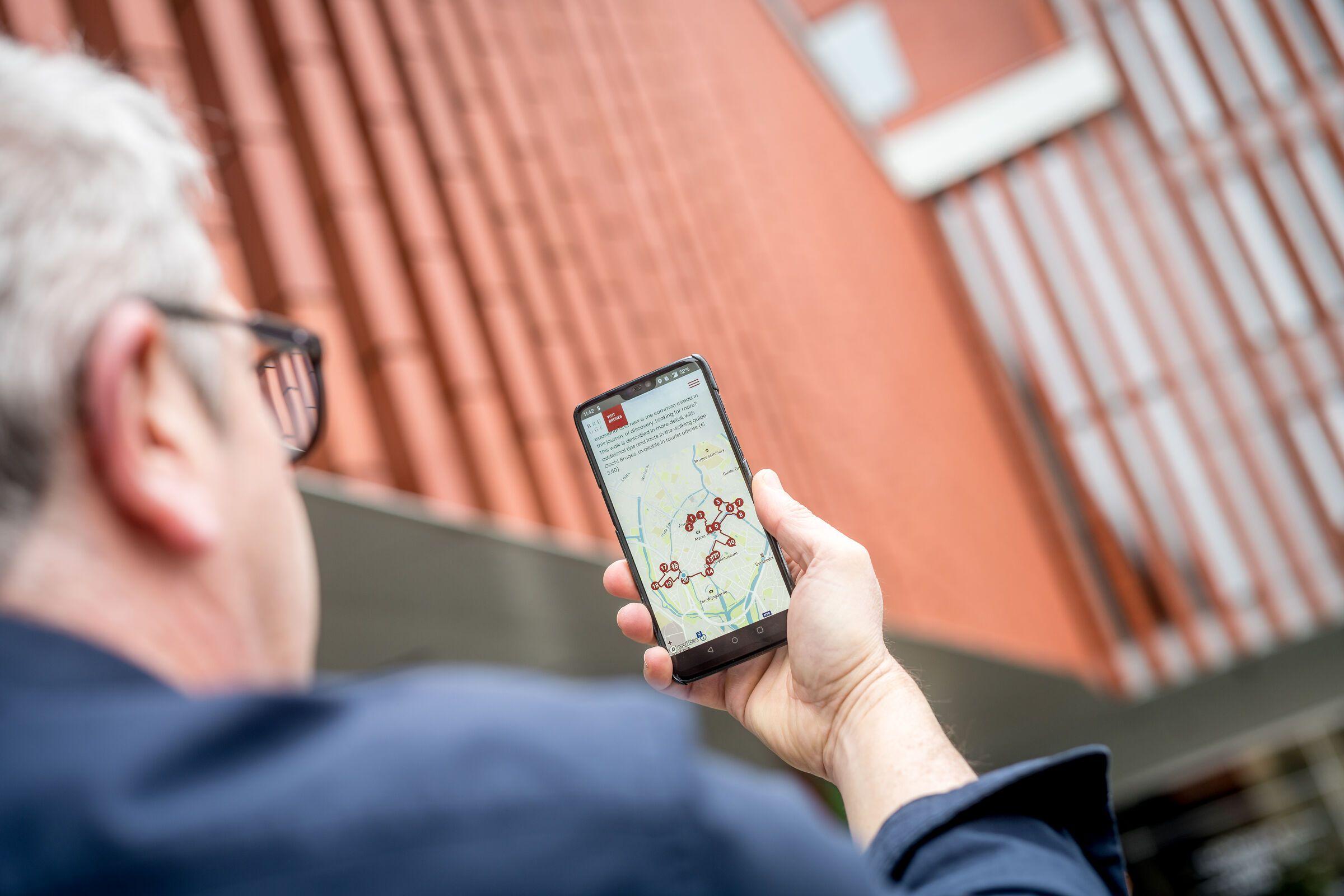 Together with the team at 'Visit Bruges', we developed a brand-new route app, creating a boundless online experience for the city. The app fully responds to international tourists in 2023, who increasingly use digital tools during their holidays.
#digital
#platform
#app
#mobile
#AR
#360
#development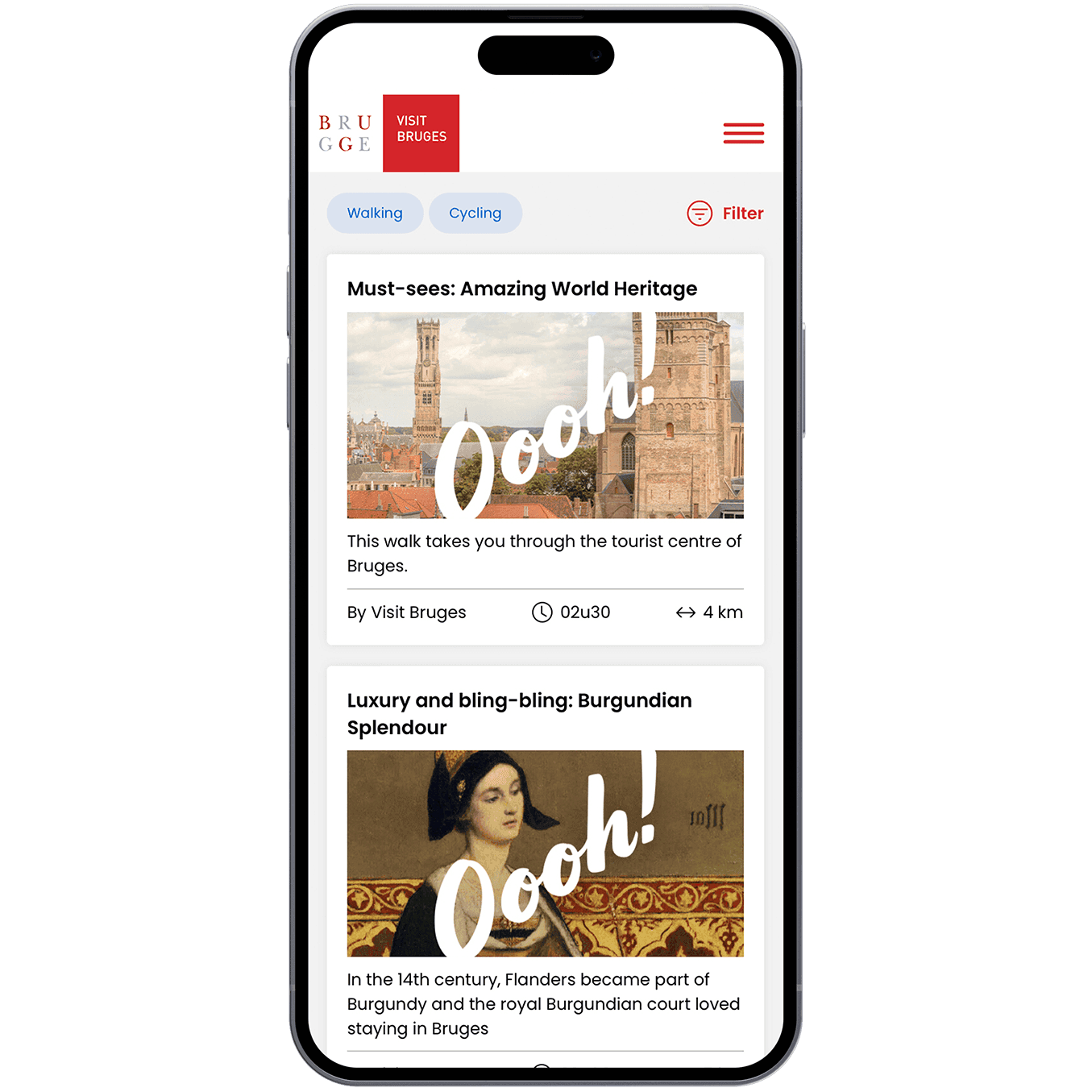 Exploring Bruges
Building on the strategy of making a digital sequel for the self-guided 'Oooh!' walking tours, Visit Bruges aimed at solving several key challenges for the city.
Looking for the necessary resources, they found the ideal partnership through the facilitators at 'Cronos Public Services'. Partnering with Studio Hyperdrive, they decided to develop a brand-new mobile route application, serving new inspiration and information.
Further on, we gained additional insights into how we could increase the experiential value of visiting Bruges, while offering the opportunity to prepare trips. All so that longer stays could be encouraged for tourists.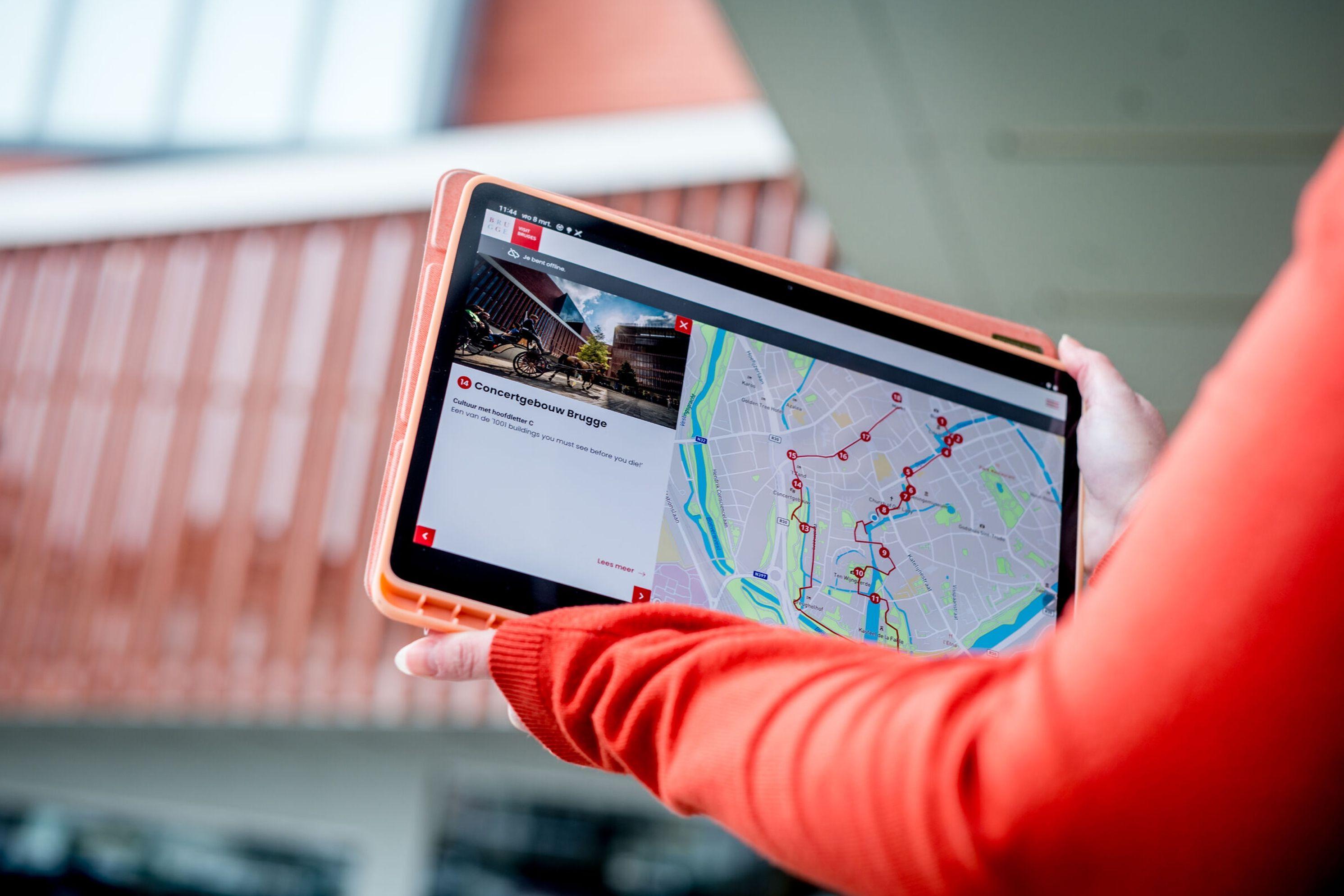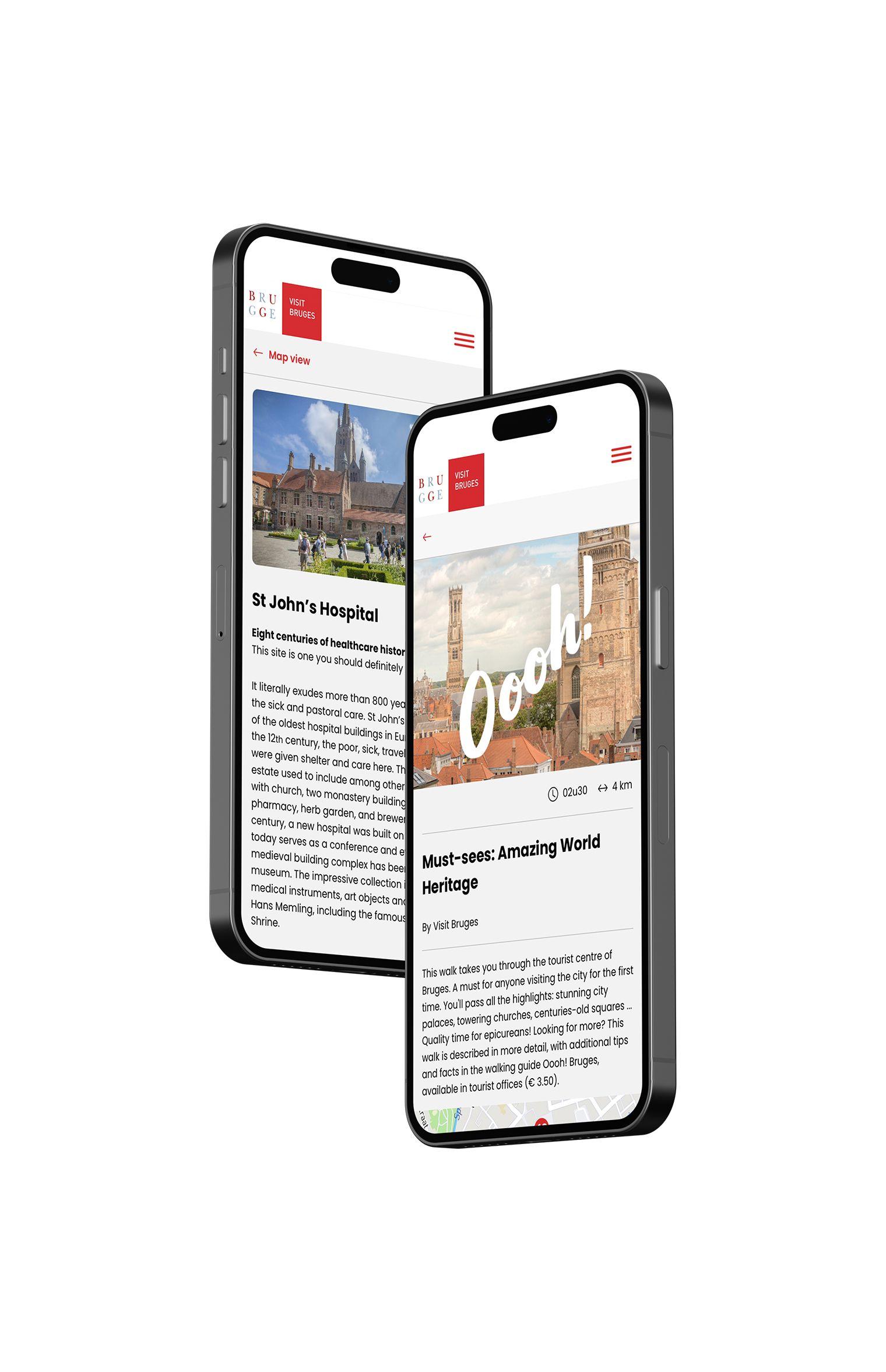 In an effort to add new layers to the route app, we started with integrating the existing walks from Bruges' 'Oooh!' self-guided walking tours, and complemented them with new content.
Through content types such as; photos, videos, 360°-degree images, and even augmented reality, we're hereby encouraging users to visit 73 points of interest that are listed on the interactive map of the app. Enabling Visit Bruges to grant users a behind-the-scenes look, at places where access is not granted.

Easily accessible
We tested multiple user stories and scenarios, making the application intuitive, memorable, and easy to use. Thus increasing user-friendliness, and tackling the main weak spots of the application.
Knowing that the core audience of the application would primarily consist of tourists, Visit Bruges decided to offer the app in six languages, to be able to communicate in the language of their target audience.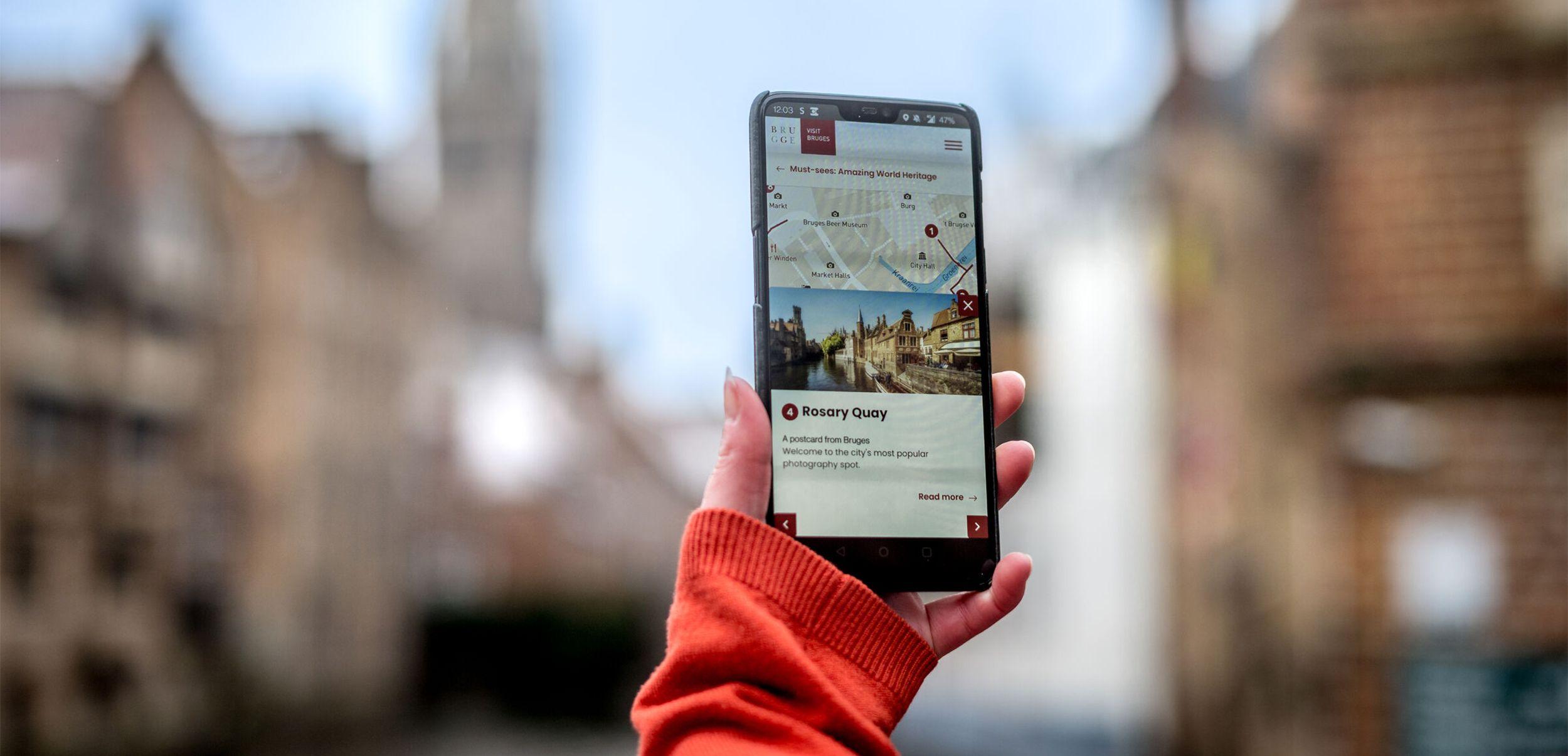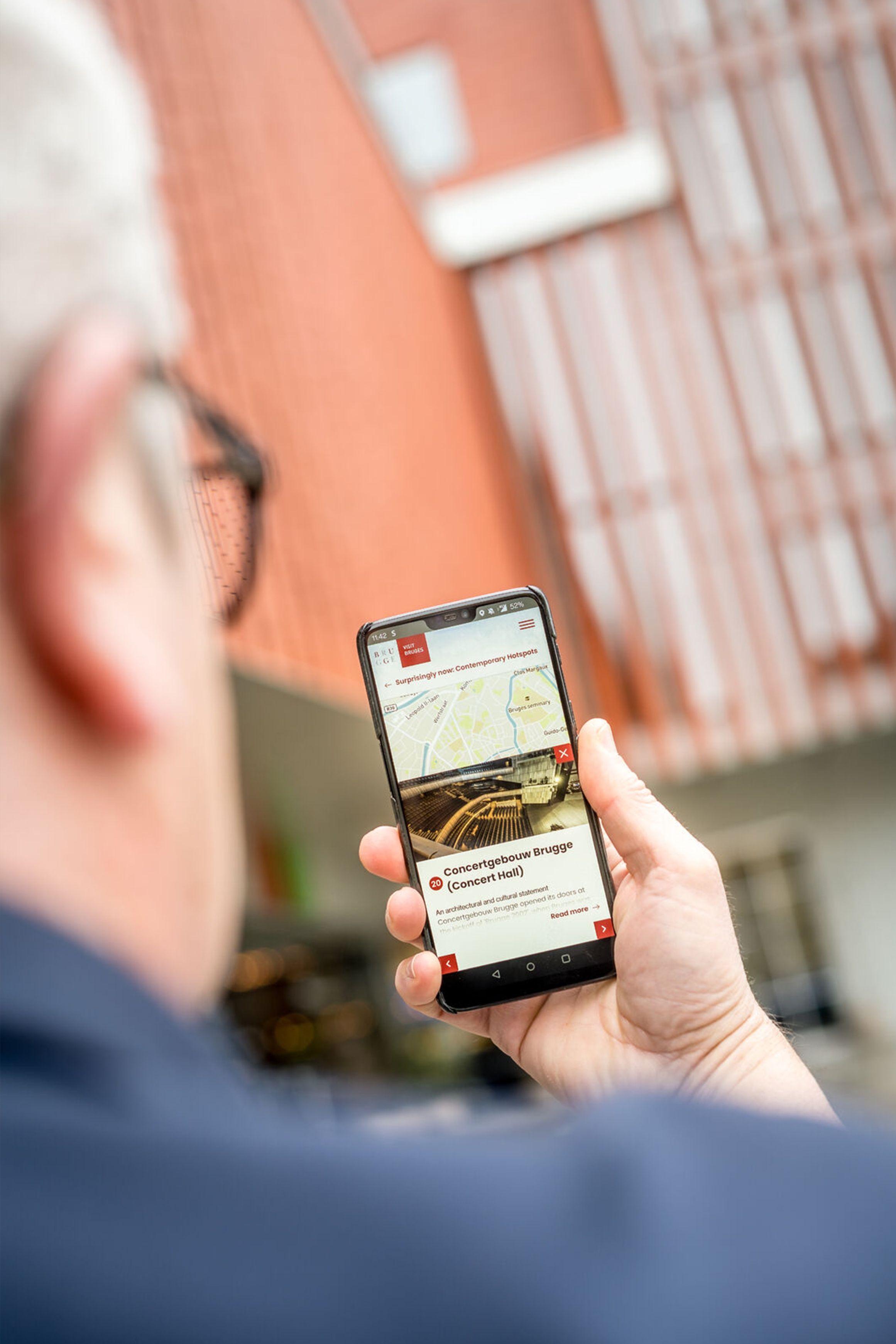 Online and offline
As was mentioned earlier, Visit Bruges aimed at making the route app more accessible for everyone. That's why we developed the platform to be available through an application that is either downloadable through the Apple App Store or Google Play Store, for mobile phones and tablets.
Allowing users to access the application's interactive map and routes at any time, even when there is no data connection available. Finally, we were also able to speed up the platform, improve its security, …

Ever-evolving
To keep optimizing the app's offering, active users of the application can provide feedback through a custom-made satisfaction tool. By receiving valuable feedback, Visit Bruges intends to keep filling the application with new and inspiring content.
For example, just recently an exciting addition will follow as part of VRT's 'Story of Flanders', in which they will bring the 'Story of Bruges' to life within the app.
Unesco World Heritage… Retaining the mysteries of the Middle Ages… and unashamedly inspirational. We've been happy to apply our skills and expertise to help Visit Bruges reach its goals with its new route app.
Since its release in January 2023, the platform has reached more than 7000 active users. Finally, this project could not get realized without the overall coordination from Cronos Public Services NV, and the support from Bruges' city marketing.